Students are exposed to field learning at the asphalt plant and associated lab to see the real-world asphalt production. Thanks go to Mr. Jeff Vaughn who has decades of asphalt mixture quality control experience in H.O. Weaver & Sons Inc. for hosting and educating our students at the South.
As proverb says "Seeing is believing", on July 8 we had a great tour at Blacklidge Emulsion Co. to see the real-world industry and know more about asphalt emulsion, testing, operation, and what engineers do, as part of summer technical elective course "Advanced Characterization of Transportation Materials".
A well-organized virtual conference in Madrid, Spain.
Made an oral presentation: "Characterization of Long-term Performance of Warm Mix Asphalt in the United States"
It is my great honor to receive College of Engineering Excellence in Teaching Award. My primary role in the South is to help students pave the way to success, as always. I will continue to dedicate myself to teaching excellence and students success.
———————————————————————————————————————————–
———————————————————————————————————————————–
The Society for Sustainable Engineering (SSE) is a newly initiated student organization that is to promote the principles of sustainable development and provide our students at the South with connections to sustainability enterprise and industry, access to sustainability professionals through organizational meetings, field activities, and events.
On Feb 4, we were very pleased to have our first guest speaker Ms. Kimberly Miller with Halff Associates, the Principal Planner for Resilience, virtually presenting their work on sea level rise adaption projects in St. Petersburg, FL and Ocean Springs, MS.
Very interesting and practical work!
Link to watch the presentation:
https://drive.google.com/file/d/1gLDHbev3E82mqWUUsS28rue7zJ5VF-EJ/view?usp=sharing
Luke Montalvo, the undergraduate research assistant, presented a poster about open-graded friction course (OGFC) study at 100th TRB virtual conference. Phenomenal job!
Link to watch the video: https://youtu.be/wBGUdxqS-hw
Just offered a free 5-day extensive review for preparing for the Fundamentals of Engineering (FE) Exam:
Day 1: 1. Mathematics and Statistics, 2. Ethics and Professional Practice, 3. Engineering Economics,
Day 2: 4. Statics, 5. Dynamics, 6. Mechanics of Materials, 7. Materials,
Day 3: 8. Fluid Mechanics, 9. Surveying, 10. Water Resources and Environmental Engineering,
Day 4: 11. Structural Engineering, 12. Geotechnical Engineering,
Day 5: 13. Transportation Engineering, and 14. Construction Engineering.
I wish everyone pass the FE exam, for a brighter career!
South undergraduate research assistants are presenting sustainable asphalt research at the Undergraduate Research Seminar virtual conference, on December 3, 2020. Excellent job!
A story published by the University of South Alabama (Link: https://www.southalabama.edu/departments/publicrelations/pressreleases/071520asphalt.html)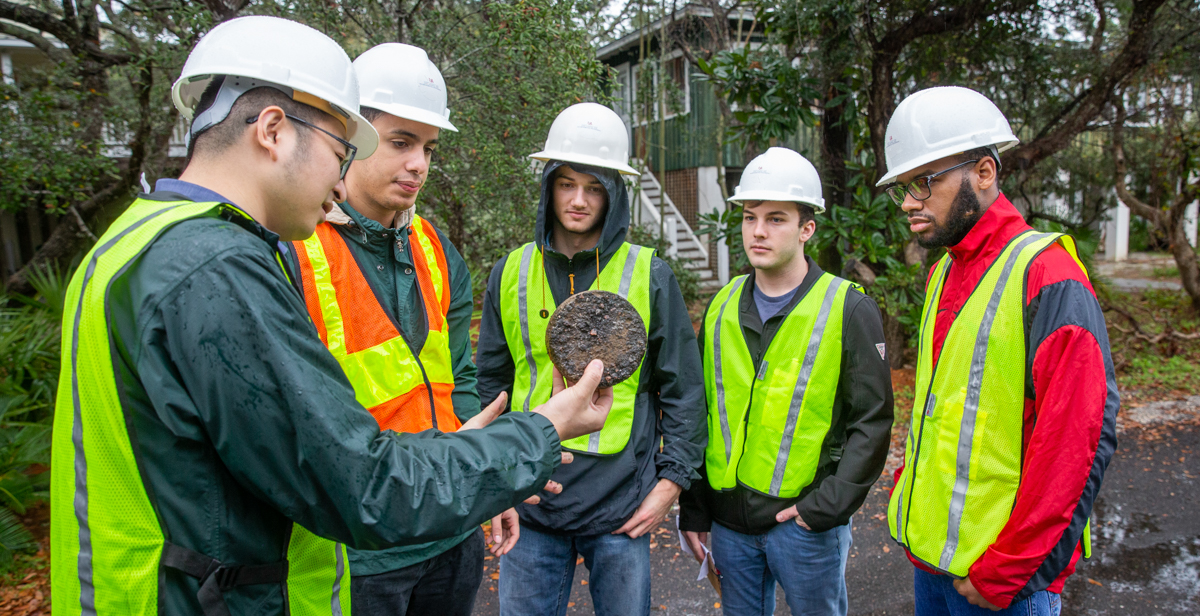 Reported by Civil Engineering magazine, April, 2020.